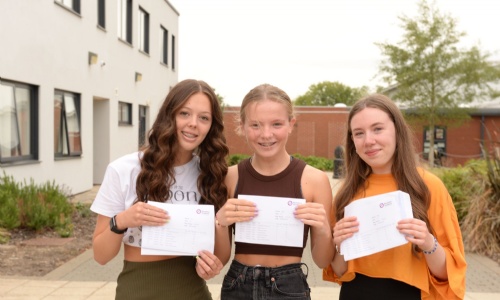 Pupils from Nuneaton Academy are celebrating as results of GCSEs and vocational qualifications are revealed.
Principal Lara Hall said, "Following the most challenging time in education in a generation, we are so proud of our pupils for the results they have achieved. It really is testament to the resilience they have shown and the hard work they have put in. I know pupils will also join me in thanking their teachers for all they have done to help our pupils excel during their time at Nuneaton Academy. Pupils have also benefited from the fantastic support of their parents, carers, and families during this difficult period.
"Given the disruption caused by the pandemic, and the adjustments that have been made to grade boundaries by awarding organisations, we are not sharing our schools' results in the usual way and our focus will be on supporting our pupils and helping them to progress on to the next stage in their education, training or employment."
At Nuneaton Academy, Kacey Adams was the first pupil in the school's history to gain a complete set of top grades achieving eight Grade 9s. Milly Wilson achieved seven Grade 9s and one Grade 8. Roni Jacques has accepted a place at North Warwickshire and South Leicestershire College (NWSLC) to study art after achieving a Grade 9 in the subject.
Roni said, "I am thrilled with my Grade 9 for art and relieved to have done so well. I am really excited about going to NWSLC to study Level 3 art this September."
Kacey said, "I am incredibly proud of my results – and I am slightly in shock to be honest!"
Marion Plant, OBE FCGI, Chief Executive of the Midland Academies Trust said, "Congratulations to all our pupils who are collecting GCSE results today. They have shown a great deal of determination in tackling the unique circumstances of the pandemic, and we are exceptionally proud of their achievements.
"Gaining good GCSE grades, especially in the core subjects of maths and English, is so important to pupils' future progress. Our teachers have set high expectations of all our pupils, who have consistently been supported to maintain their learning and continue to progress. We wish them the best of luck for the future as they take their next steps."