Keeping safe and well whilst learning from home
It is important to keep your body and mind healthy whilst you are learning from home, and to take care when spending time online. Here are some useful resources for pupils and families during the period of school closure.
Remember you can always contact us if you need support or just want to talk to someone. We are only a phone-call away.
Keeping Safe Online
You may be spending a lot of time online right now. You must remember to keep safe and avoid negative messages online. The websites below contain information to help keep you safe online.
Internet matters. Advice for parents and carers on how to keep children safe online.
Thinkuknow. Advice about staying safe when you are on a phone, tablet or computer.
CEOP. IF you are worried about online sexual abuse, or the way someone has been communicating with you online, CEOP can help.
Healthy Bodies
Keeping active is a great way to improve your health and to blow off steam. You are allowed to exercise daily – even a quick walk around your local area will make a big difference.
Coronavirus Support
You may be finding coping with coronavirus to be difficult. We all need to stay safe whilst looking after ourselves and others.
Coronavirus and mental health. Tips, advice and guidance from Young Minds on where to get support for your mental health during the Covid-19 pandemic.
Healthy Minds
Taking care of your own wellbeing is important. Talk to someone if you are finding life difficult right now.
Looking after your child's mental health. NHS advice site for parents and carers.
Self care for young people. Videos and advice from the NHS about how to take care of yourself during lockdown.
Kooth. An online mental health community - articles, discussion boards, text chat and more.
Need to Talk?
If you feel like you need help, or just need someone to talk to, there are many organisations out there . Don't wait until you feel overwhelmed - if you need help, call. They won't think you are wasting their time, and will be happy to listen. Many offer text or chat services too.
Childline. Childline is a free, private and confidential service where you can talk about anything. Whatever your worry, whenever you need help, we're here for you online, on the phone, anytime. Phone: 0800 1111 or use the online chat app.
Samaritans. Samaritans provides confidential emotional support, 24 hours a day for people who are experiencing feelings of distress or despair, including those which may lead to suicide. You don't have to be suicidal to call us. We are here for you if you're worried about something, feel upset or confused, or you just want to talk to someone. Phone: 116 123
The Mix. The Mix offers support to anyone under 25 about anything that's troubling them. Email support available via their online contact form. Free 1-2-1 webchat service available. Free short-term counselling service available. Phone: 0808 808 4994 Opening times: 4pm - 11pm, seven days a week.
PAPYRUS. Are you, or is a young person you know, not coping with life? For confidential suicide prevention advice contact 0800 0684141. 9am-12am 7 days a week.
YoungMinds. YoungMinds Crisis Messenger text service provides free, 24/7 crisis support across the UK. If you are experiencing a mental health crisis and need support, you can text YM to 85258.
Rise. Rise provides emotional wellbeing and mental health services for children and young peopl. During the COVID-19 outbreak, Rise are providing a 24/7 helpline run by qualified mental health clinicians to be there for you to contact when you need support and advice to prevent crisis escalation. If you are calling between the hours of 8am and 8pm: 02476 641799. If you are calling between the hours of 8pm and 8am: 02476 938000
My name is Ryan and I am a community outreach manager for Rehab 4 Addiction, a website that offers guidance and support for people experiencing problems with substance misuse and co-occurring mental health problems.

Rehab4addiction. I am trying to promote our website so that more people can benefit from the information and guidance we publish on our website. We are somewhat similar to websites like Alcoholics Anonymous, Alcohol Concern, and Talk to Frank, although we do offer information that's not covered by these websites.
The web page is https://www.rehab4addiction.co.uk
Support in Your Area
Mental Health and Wellbeing site. Warwickshire County Council's site has links to all local support available, as well as guidance and advice.
A family information service newsletter. Warwickshire County Council has an ongoing newsletter providing ongoing support and advice about Covid-19 for families across Warwickshire.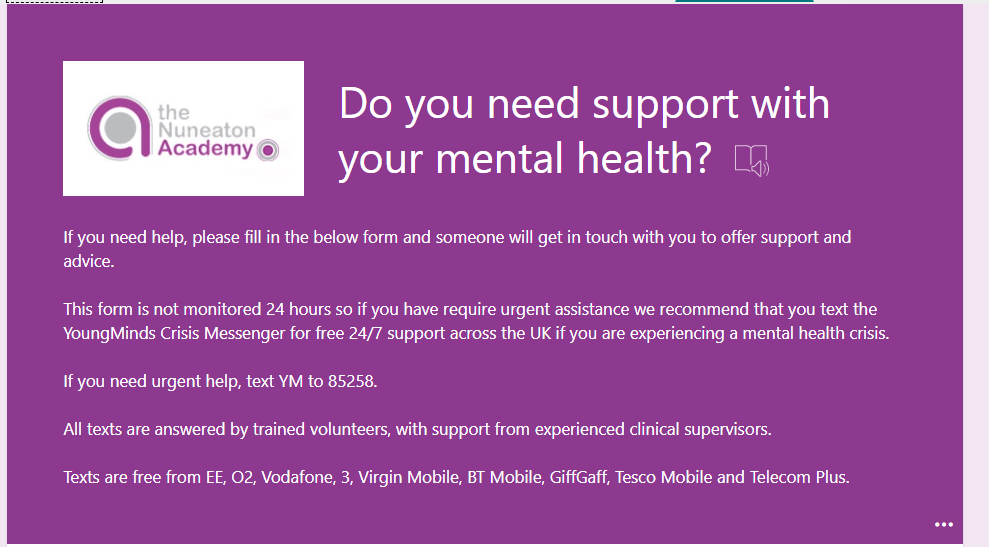 https://forms.office.com/Pages/ResponsePage.aspx?id=JjyPPym580-nQUQJKG6wb_gdq_RNtCxLpG_9hzSbssdUN1o2T0UxOTlCUFlPWVRXMVpTTkFFNENLNy4u